The programme of Doorstep walks is currently under review. Please take care whilst out walking the routes as the weather and changing seasons can affect the terrain.
Length of walk: Approx 4.5 miles
Duration of walk: Approx 2-4 hours
Good place to start: St Thomas Church car park
Notes: Disabled access, muddy fields
From the car park behind St. Thomas' and St. Andrew's Church at Doxey, take the footpath which leads over rough ground to reach the cycletrack/footpath - part of 'The Greenway'.
Go forward along the road past the former Burleyfields Farm, until a bridleway is reached at a signpost close to the next farm.
Leave the road and follow the bridleway, passing through two metal bridle gates. Continue along a farm access under the M6 motorway, then through a yellow painted gate into a field now known as Duddas Wood. From a finger post near some trees, bear right across the new wood to a gate - take the path opposite, up onto the Greenway to visit Derrington's Millennium Green.
Return to Duddas Wood, pass through another gate to follow the edge of the village. The Castle and its woods dominate the scene to the left.
Turn left at the hedge boundary. A path leads towards a pedestrian underpass of the M6 then rises gradually across two fields towards the edge of Castle Woods.
Cross a stile and walk round to the Castle Visitor centre and if desired follow the Castle Trail.
Return to the stile at point 6. Turn right and walk directly downhill beside the hedge.
A bridleway is reached by a pool. Turn right through a bridle gate and walk across a field and then beside part of the Castle Golf Course, to reach Castlefields estate.
Cross the road with care. Bear left along Martin Drive using either the pavement or the path along the top of the embankment.
Continue along the farm road to join the cycle/walkway, then return to Doxey by the path you used earlier.
Note: Click map image for a bigger view.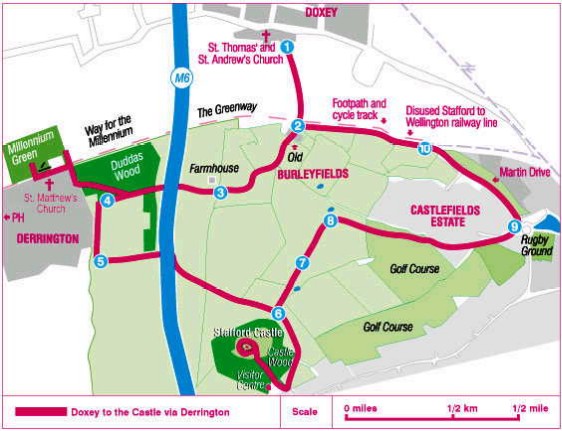 To print the walk details above, right click and print or go to file and print.