13/11/2023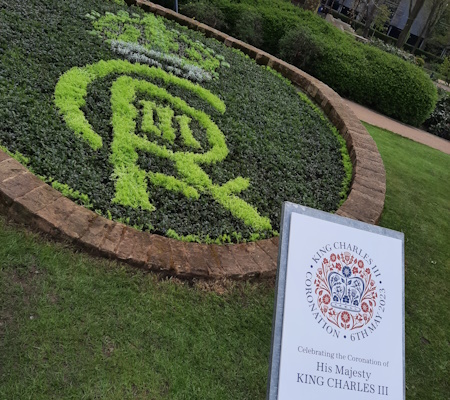 A floral tribute to mark the work of the Samaritans will take centre stage at award-winning parks in Stafford and Stone.
The flowers in the carpet beds at Victoria Park in Stafford and Stonefield Park in Stone will be designed to honour the charity which has been running for 70 years. The Samaritans were founded in November 1953 and have had a branch in Stafford for 60 years.
The beds in the park have previously commemorated major events - such as the Platinum Jubilee of the late Queen Elizabeth II in 2022 and a tribute to the coronation of King Charles III this summer (pictured) - as well as honouring the NHS, armed forces and several charities and organisations that do great work to benefit the borough.
The Samaritans has around 22,000 volunteers with more than 200 branches and locations across the UK and Ireland. They provide confidential and emotional support, in a range of ways, to those in need of a safe space to talk - and every 10 seconds the charity responds to a call for help.
At a meeting in September Stafford Borough Council unanimously agreed to plant a tree in Victoria Park to show appreciation for the work of the Samaritans. Now Councillor Gillian Pardesi, Cabinet Member for Leisure, said they wanted to go further to demonstrate how much the charity means to the people of the borough.
She said: "These fantastic displays in the carpet beds of our beautiful parks are seen by tens of thousands of visitors and local people every year and we receive many lovely comments about them.
"We are grateful for all that the Samaritans do to support those who are often at their lowest point in life and in desperate need of someone to turn to - and I am pleased that we can use the carpet beds to pay our own tribute to this wonderful charity in their 70th year."
Both borough council run parks have been awarded a 'Green Flag' - the national yardstick for the best parks and open spaces in the country.
Press Release No 6083