12/09/2023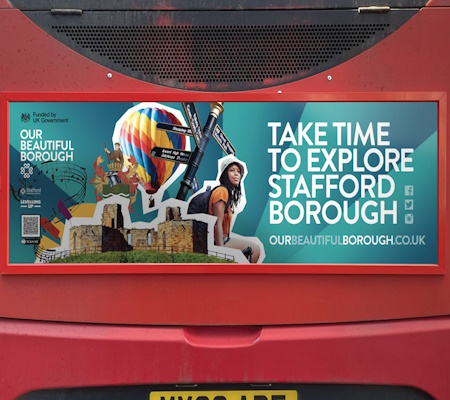 Tourism, hospitality and leisure businesses are being helped by a campaign to attract visitors to Stafford Borough.
The 'Our Beautiful Stafford Borough' programme of activities has now been seen more than one million times across a variety of initiatives since it was launched in the summer.
The money to run the promotional work has come from the UK Shared Prosperity Fund (UKSPF) as part of the UK Government's 'Levelling Up' agenda.
Stafford Borough Council was awarded one of the largest pots of money in the country from the government's 'UKSPF' after successfully putting forward schemes to help the visitor economy, regeneration, climate change and culture.
Stafford based branding agency, Verso Creative, has designed and delivered a brand new visitor economy promotional campaign under the title of "Time To Explore Stafford Borough", utilising social media and online advertising, bus rear and bus shelter presence marketing, local press advertising, and tourism leaflets which are strategically placed in major attractions.
Verso Creative Partner, Greg Smith, said "This campaign continues to raise awareness of Stafford Borough as a great place to visit. Whilst Staffordshire as a whole has a wealth of visitor attractions we want to draw attention to what is available specifically in the Borough of Stafford. After all, the towns of Eccleshall, Stafford and Stone, and our surrounding villages, have a plethora of places for visitors, residents, family and friends to explore."
Greg continued, "Working with the team at Stafford Borough Council, we have developed a free-to-use website where local businesses and event organisers can upload their details, provide direct links to their websites, and list events and activities within a matter of minutes. Currently there are over 400 businesses and almost 200 events listed, and we expect many more as we go through to March 2025."
For more information on 'Our Beautiful Stafford Borough', or to add your business or event, please visit www.ourbeautifulstaffordborough.co.uk
Press Release 6068